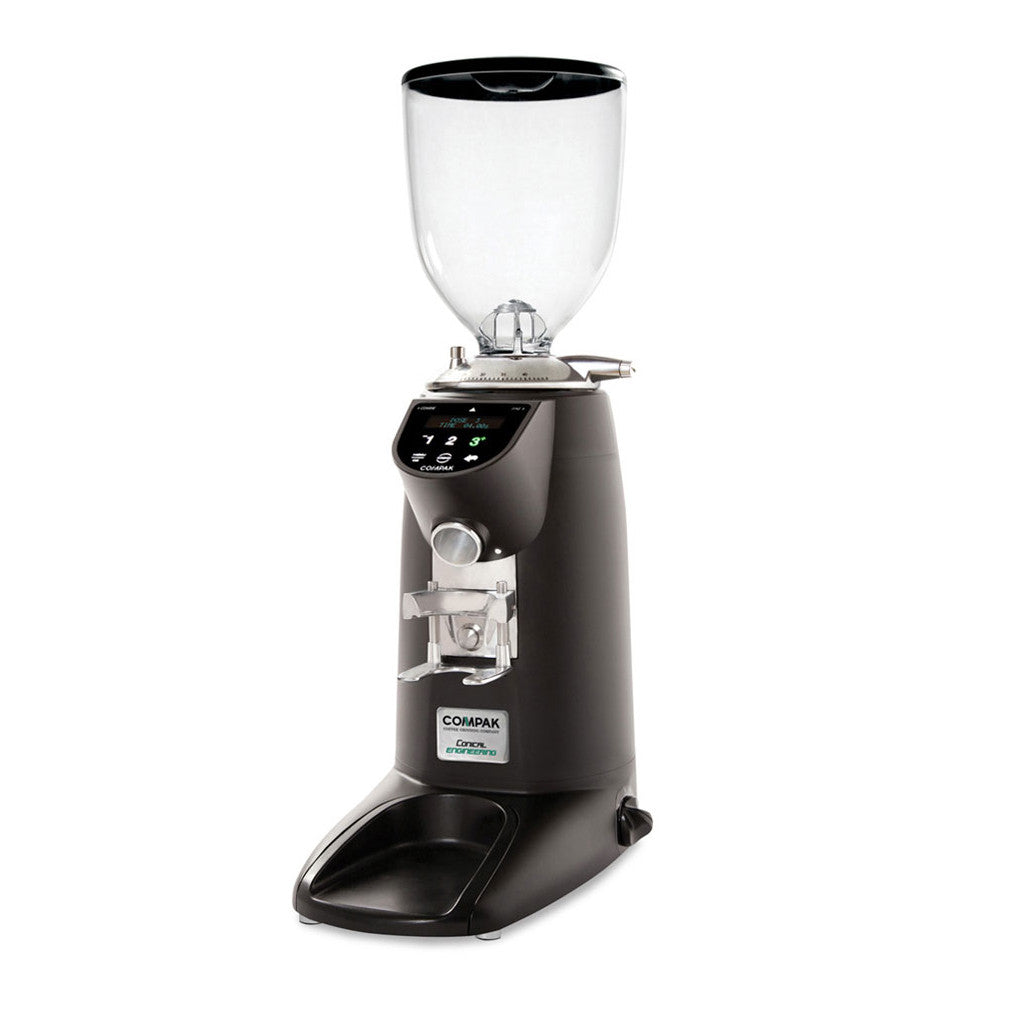 Compak E10 Conic On Demand Coffee Grinder
Compak E10 Conic On Demand Coffee Grinder

KEY FEATURES
"Parallel System" grind regulator lock

1 or 2 On-Demand ground coffees

Touch control screen

Electronic fan

Three positions switch with by-pass

Universal adjustable height porta filter holder
MOTOR 800 W WITH REDUCTION TO 350 RPM
Powerful motor that allows you to work continuously in situations of high demand, maintaining all the properties of the coffee thanks to the cold grinding at low revolutions.
CONICAL BURRS 68 MM
Ensures accurate particle size for Espresso and spectacular productivity: 7 gr in 1.9 seconds. Special pre-wear treatment is applied to ensure optimal performance from the first use. Durability of 1200 Kg.
LCD DISPLAY
Multilanguage
Changing burrs alarm
3 Modes: Pre-selection - Automatic - Instant
Refill Button
Absolute and relative coffees counting
Activate pad and end of service sound
Password
ELECTRONIC FAN
Incorporates an electronic fan on top of the body that maintains a cool flow of air at all times.
CONTINUOUS MICROMETRIC ADJUSTMENT SYSTEM PARALLEL
Set the grind point with maximum precision in a very simple and intuitive way. The new Parallel locking system provides an extra level of security ensuring parallel positioning between burrs at all times.
COFFEE OUTLET ENLIGHTENED WITH LEDS
Low consumption LED technology, which will allow the final user to have a greater visibility in their working area.
ACCURATE DOSING. TIME PER DOSE: 1.9 SEC. = 7 GR ESPRESSO (*)

(*) Calculated time to the grind point for a cup of Espresso coffee 25 ml in 25 seconds. With 7 grams of coffee.

ADJUSTABLE PORTA-FORK HEIGHT, UNIVERSAL CLAMP AND HOLDER

Perfect fit for the most common portafilter sizes, which also allows for hands-free usage.

HEAVY DUTY POWER SWITCH

Unlimited uses are guaranteed with this "three positions" switch offering a Total control to the Barista without been necessary to use the electronic system of the grinder.
KEY SPECIFICATIONS
| | | |
| --- | --- | --- |
| motor output | 800 | W |
| Revolutions per minute | 325 | rpm |
| Ø Burrs | Conic 2.65 | in |
| Espresso point production | 33 | lb/h |
| Time x dosis Espresso (7gr) | 1.9 | s |
| Hopper capacity | 3.74 | lb |
| Height x width x depth | 25 x 8.46 x 15.7 | in |
| Net weight | 37.25 | lb |
Contact us
Morala Trading Inc.
428 Kent Street
Ottawa, ON K2P 2B3
Canada
Toll Free: 1-800-625-9625
Local: 613-230-4452
Morala Trading Toronto
Local: 647-350-4090

Inquiries
General:orderdesk@morala.com 
Service: fred@morala.com 
Sign up to our mailing list
Free shipping on all Canadian retail orders over $100!