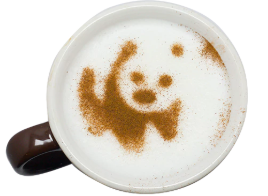 Latte Art Stencil Pack
Latte Art Stencil Pack
This pack of stencils lets you push your latte art to the next level with powder drawing on the surface of the perfect cappuccino. The pack contains 15 different designs that can be applied to the surface of any cappuccino, latte or other drink and are reusable as many times as you'd like. Designs include; a panda, a tree, the sun, heart, coffee beans, coffee mug, a maple leaf, and several others. Guaranteed to put a smile on your face!
Contact us
Morala Trading Inc.
428 Kent Street
Ottawa, ON K2P 2B3
Canada
Toll Free: 1-800-625-9625
Local: 613-230-4452
Morala Trading Toronto
Local: 647-350-4090

Inquiries
General:orderdesk@morala.com 
Service: fred@morala.com 
Sign up to our mailing list
Free shipping on all Canadian retail orders over $100!