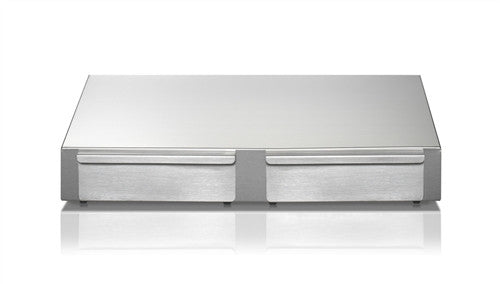 RANCILIO BASE
RANCILIO BASE
A strong foundation is really important for all great things and Rancilio Stainless Steel Base provides that firm and secured foundation to your adorable Rancilio Silvia Espresso Machine and the robust Rancilio Rocky Coffee Grinder. This gorgeous looking stainless steel base contains 2 drawers. One drawer can be used for storage of small items such as spare filters baskets, cleaning brush and other accessories or tools. The second drawer serves as a knock box with a durable hardwood bar for knocking out the used coffee. The base raises the machine to a better working height where you can accommodate even a 32 oz. milk frothing pitcher under the steam wand. The overall height still allows you to place the whole thing under most standard height kitchen cabinets.
* Made in Italy, constructed of stainless steel
* Designed exclusively for Rancilio Silvia Espresso Machine and Rancilio Rocky Coffee Grinder and makes them appear as a set.
* Size: (WxHxD) 48 x 5.4 x 34 cm