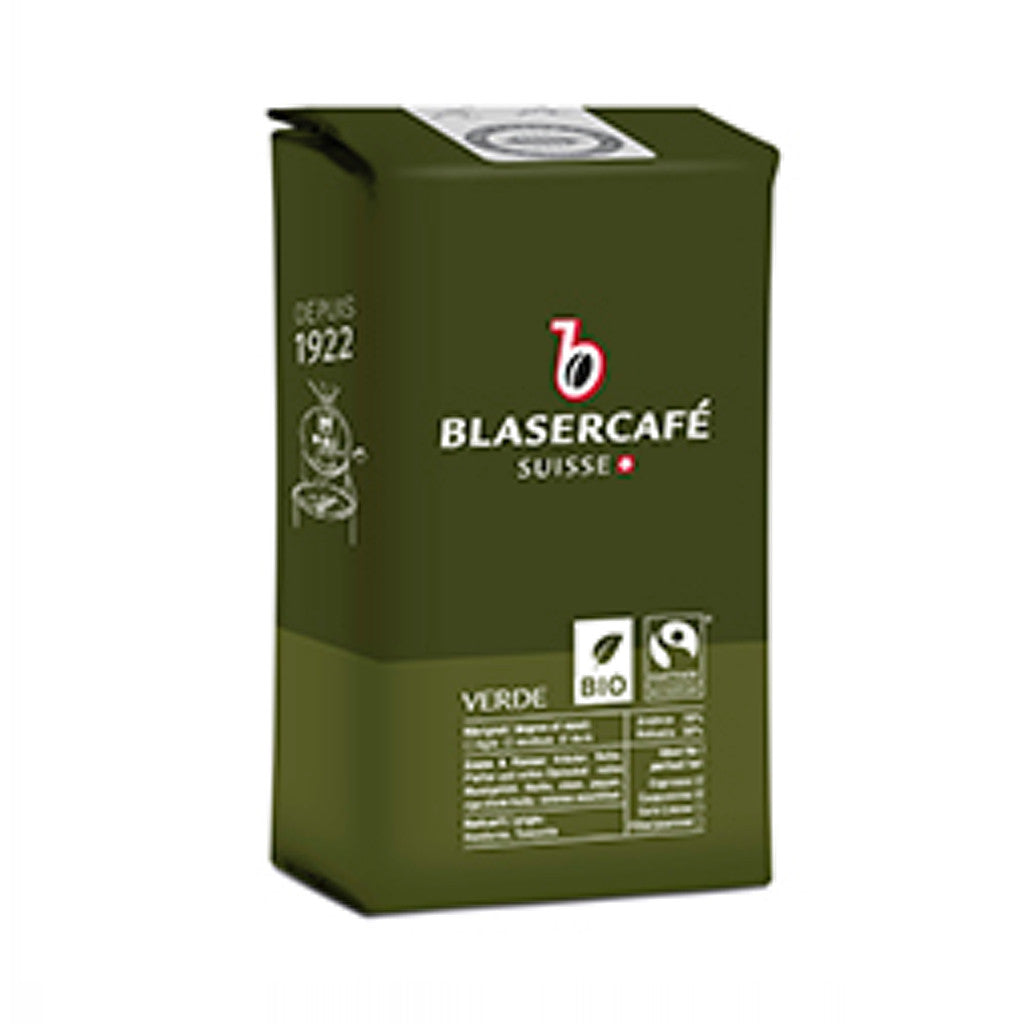 Blasercafe Verde Coffee
Blasercafe Verde Coffee
Verde is an espresso blend made from 100% organically farmed and Fairtrade certified coffee from Honduras and Tanzania. In Honduras the Cooperativa Agropecuaria Regional Unión Chinacla represents some 445 Fairtrade certified coffee growers. In Tanzania the Kagera Cooperative Union on the Western shore of Lake Victoria unites some 126 cooperatives with more than 60,000 small farmers. Thanks to the Fairtrade conditions, farmers and workers are able to invest in a sustainable future.
Blasercafé was founded in 1922 by Walter Blaser Sr. as a small coffee shop in Zurich. Soon after he moved to Berne and took over the premises in Effingerstrasse, which served as roasting facility, office and commercial shop. During the nineteen-thirties and forties, nearly one hundred door-to-door salesmen were employed to sell the merchandise and green coffee was bought directly from the source. At the end of the forties, Blasercafe's family leadership continued under Walter Blaser Jr. who went on to install Switzerland's first fully automated roasting machine.
Blasercafé buys virtually all of its green coffees directly from the estate/plantation through its sister company Blasertrading. Traceability and personal relationships with suppliers in all the countries of origin ensure that they consistently obtain premium quality.

A number of checks on samples enables them to monitor quality from shipment to arrival at the warehouse in Berne.
Blasercafé  is based in Berne, Switzerland and employs around 50 people. Their focus is the production and distribution of high-quality roast coffee at home and abroad, as well as providing training and certification to coffee enthusiasts and professionals from around the world.
Contact us
Morala Trading Inc.
428 Kent Street
Ottawa, ON K2P 2B3
Canada
Toll Free: 1-800-625-9625
Local: 613-230-4452
Morala Trading Toronto
Local: 647-350-4090

Inquiries
General:orderdesk@morala.com 
Service: fred@morala.com 
Sign up to our mailing list
Free shipping on all Canadian retail orders over $100!