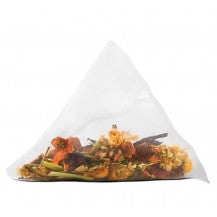 Organic Orchard Berry Two Leaves and a Bud
Organic Orchard Berry Two Leaves and a Bud
We turned to hibiscus, blackberry leaves and orange peel when we created this tea. It's a taste that reminds us of a hike in the mountains of Colorado, where we live. This bright berry tea brews up a jewel-toned shade of red. Try it iced!
Two Leaves and a Bud is an independent tea company based in the small mountain town of Basalt, Colorado (population 3,000), and is known internationally for producing high quality organic and fairly traded tea in sachets, iced tea, loose leaf, and now teabags from their Paisley Label Tea collection.
Two Leaves and a Bud is a pioneer of the pyramid-shaped sachet in North America. These tea sachets have made drinking whole leaf tea convenient for all. The special shape and size of the sachets allows the tea leaves room to infuse completely, providing fuller flavour.
Truly great tea is hard to come by. It requires rich flavor with complexity and nuance. It balances sweetness and astringency. It's a labor of love: Every season's new tea brings variance in cup color, flavor, depth, intensity, all of which need to be cupped and assessed. Most of all, it requires passion.
Contact us
Morala Trading Inc.
428 Kent Street
Ottawa, ON K2P 2B3
Canada
Toll Free: 1-800-625-9625
Local: 613-230-4452
Morala Trading Toronto
Local: 647-350-4090

Inquiries
General:orderdesk@morala.com 
Service: fred@morala.com 
Sign up to our mailing list
Free shipping on all Canadian retail orders over $100!