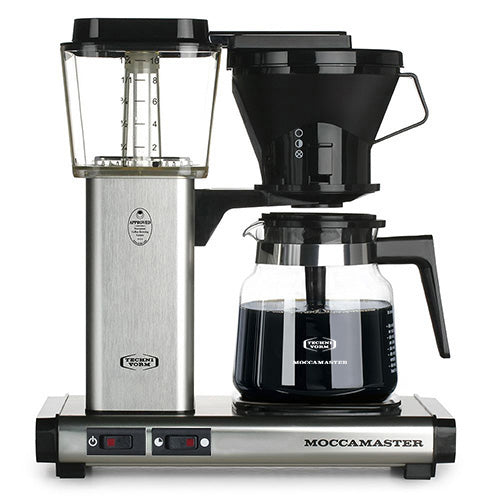 Moccamaster KB Brushed Silver
Moccamaster KB Brushed Silver
The Moccamaster KB model features a glass jug and a manual-adjust brew-basket which provides adjustability in how fast coffee flows into the jug. The KB brews a full 10-cups pot of coffee in six minutes. The coffee is then held on the unique hot plate; which is engineered with a separate element that keeps the coffee hot and to ensure an even taste from the first cup to the last drop. The hot plate has two settings to offer you the choice to hold the coffee at 80° to 85° C, while never burning the coffee.
All Moccamaster filter Coffeemakers are handmade in the Netherlands and have a limited 5-year warranty.
Contact us
Morala Trading Inc.
428 Kent Street
Ottawa, ON K2P 2B3
Canada
Toll Free: 1-800-625-9625
Local: 613-230-4452
Morala Trading Toronto
Local: 647-350-4090

Inquiries
General:orderdesk@morala.com 
Service: fred@morala.com 
Sign up to our mailing list
Free shipping on all Canadian retail orders over $100!