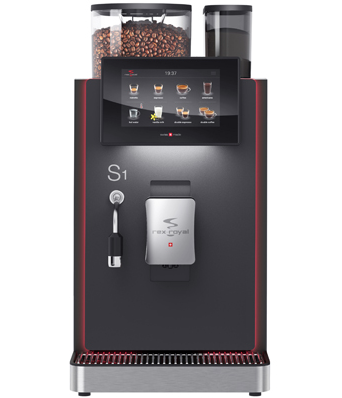 Rex-Royal S1 MCT
Rex-Royal S1 MCT
Rex-Royal S1
Compact & Efficient
First-class beverage creations despite an amazingly compact shape. All this and more is contained in the Rex-Royal S1, the professional coffee machine for small to medium capacity requirements.
Whether you want to offer a classic coffee, espresso, or numerous milk-, mixed beverages and hot chocolate in a bakery, a small restaurant, in convenience stores or in the office, the S1 ensures perfect preparation of your beverages with its powerful and high-quality components.
Choose between fresh and instant products. The user-friendly, video-capable 7-inch TouchScreen offers a wide range of beverage selections and you can choose
between served or self-service layout. The S1 will convince you.
Innovation & Sustainability
High Quality Components
The high-quality, newly-developed, high-performance Rex-Royal metal brewing unit has a capacity of up to 16 grams of coffee powder. This ensures the highest quality of coffee and guarantees optimal extraction for both single and double products. It is possible to get tea and coffee at the same time with the professional Rex-Royal tea/steam boiler system capable of outputting up to 26 litres of hot water per hour.
To maximise the potential of the S1, our engineers optimised the specifically-developed software in order to turn the fresh beans into the best coffee speciality possible. Expertise, innovative spirit and lots of passion; these values characterise the new compact S1 and guarantee Swiss quality on every level.
Enchanting Diversity
Make Your Choice
The compact S1 doesn't take up much space, but it can handle any situation with ease. Whether you want a micro-foam of perfect quality for a cappuccino or a three-layer latte macchiato - you can enjoy all this and more specialities at the touch of a button.
With the option of two grinders, you can rely on excellent coffee quality. Depending on the model, the S1 can prepare one or two products and hot water simultaneously. A variety of combinations and options allows the user to customize the S1 to their personal needs.
HACCP hygiene standards are always met and our Touch Screen guides you easily through the cleaning system – reducing the workload to a minimum. The result is always a clean, flawless coffee machine.