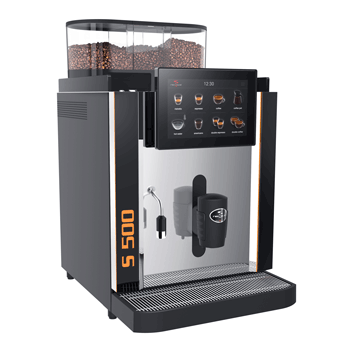 Rex-Royal S500 Espresso Machine
Rex-Royal S500 Espresso Machine

​
All products can be brewed like two at once.

The integrated hot water/steam system has an hourly output of up to 58 litres and as a result fulfils the highest time and capacity requirements.

Separate, efficient boilers for the preparation of coffee, hot water/steam.

Patented metal brewing unit with storage capacity of 23 grams of coffee powder.

Consistent, high-quality production of single and double products.

Equipped with two precise, quiet and powerful grinders as standard.

Can be optionally equipped with a third grinder.

Equipped with a crystal clear, 10.1-inch, video-compatible display as Standard.

Intuitive and easy operation, whether for cup preselection or in self-service layout.

Various operating concepts (service and self-service).

Machine can play advertising messages and be updated via USB Connection.
MODELS
CT
Coffee , Hot water
CTI
Coffee , Hot water , Instant
CST
Coffee , Hot water , Steam
CSTI
Coffee , Hot water , Instant , Steam
MCT
Coffee , Hot water , Milk
MCT-CF
Coffee , Hot water , Milk , C-Foam
MCTI
Coffee , Hot water , Instant , Milk
MCTI-CF
Coffee , Hot water , Instant , Milk , C-Foam
MCST
Coffee , Hot water , Steam , Milk
MCST-CF
Coffee , Hot water , Steam , Milk , C-Foam
MCSTI
Coffee , Hot water , Instant , Steam , Milk
MCSTI-CF
Coffee , Hot water , Instant , Steam , Milk , C-Foam